Today I combined the
Inspired by #7
photo inspiration with the
Simon Says Sketch Challenge
. I chose the wedding part of the photo (although I would love a pair of those tennis shoes) with the colors--blue, white, and yellow and then threw in the pink for the sweet happiness of a wedding. The sketch was fun to play with. I used my blending pen with my ink pads to color the rose so it matches as close as possible.
The next card is a combination of Just Us Girls #120 and the Splitcoast Stampers sketch challenge #368. Another fun sketch full of possibilities and an awesome color challenge consisting of pink, red, and white. Although I could have made a Valentine's card, I elected to make another birthday card. In a family of seven sibling, six of us have birthdays in March plus we have my parent's wedding anniversary in the same month. I need the birthday cards. lol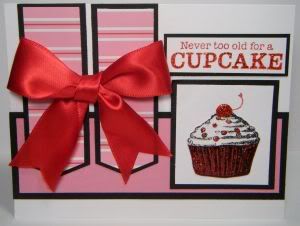 JUGS120 and SC368
Thanks for looking and have a good night!