The minute I read about the
Stampendous Bling challenge
, these stamps popped in my mind. I knew they would be perfect with a rhinestone right in the middle for a little added sparkle and glitter.
I really like the simplicity of the black and white. The big bonus was the easy color matching. LOL Kind of a no-brainer with this color scheme.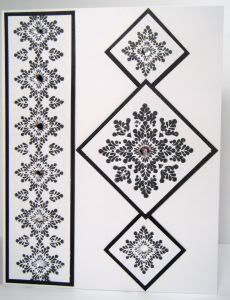 I also made this card for the
"Anything Goes" Simon Says Challenge
. This challenge is open until Wednesday, February 1. The Stampendous Bling challenge is open until February 2. Still plenty of time to enter both challenges! Go check them out.
This card is also for the
52 Card Pick-up--Week 4
on the Old Back Porch blog. The idea is to make a card every week for a year hence the name 52 Card Pick-Up. No requirements, sketches or color limits, just sharing a card a week simply for the sake of creating. Come join the fun.