One more card. This one is for the
Inspired by #4 challenge
. I took my inspiration from the colors of the card. I love the clean contrast of the yellow, black and white.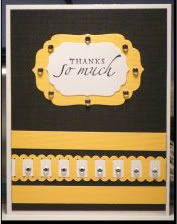 Since it was based on a New Year's invitation, I also added a little bling with the rhinestones.
Now I am off to bed. I need to get up early to enjoy my last day of my holiday vacation before going back to school.