The first card is for the
Lawnscaping
challenge. The very cute digital stamps were designed by
Melanie Deasy
and you can find the download on the Lawnscaping blog. Please give her credit when using them. This is the first time I used digital stamps, but it gave me the perfect opportunity to try out my new Copics! It's my first set. My hubby gave them to me for Christmas so I've been looking forward to trying them out. I had a good time playing with the colors and figuring out what they can do.
Our inspiration:
My card--outside: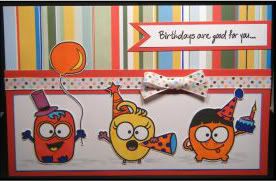 and inside:
My second card is a mini card for the
Blogger's Challenge
. We had to use the colors green, blue, purple, black, and vanilla or white.
Tomorrow is my first day back to work with kids. Time for bed! Good night and thanks for looking.