and I knew the two were meant for each other. I have to admit that this one is one of my favorite cards. I love how the flower turned out and the colors are a perfect match for the paper.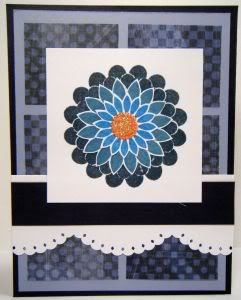 JUGS122
I took the color blue from the inspiration photo as well as the blocks. If you look closely at the model's blouse, it has a block pattern to it. I also used the airy, dainty look which inspired me to make the lace edge border thanks to a new EK Success punch.
Thanks for looking. If I can get rid of this sinus headache, I might have another card to post.