After spending a weekend scrapping with my friends out of town, I am full of inspiration. I truly love spending time with friends that understand the fun of being creative and who all have different styles and tastes. It helps me step outside of my comfort zone and try something new which is the same reason I love challenges.
I took the dress shop window as my inspiration as well as the color red and the very leggy Minnie who is definitely "hot stuff" being all dressed up and ready for a party.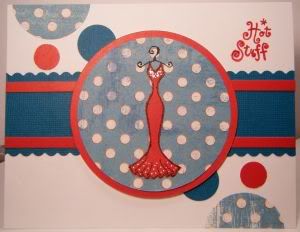 SSD113
This card is also for the 52 Card pickup challenge on the
Old Back Porch
blog.
Thanks for looking and have a good night.