I finally made another card. Lately my mojo has been misplaced, lost, gone, absent. I hate when that happens. With the start of spring break, I was bound and determine to find it. So off to my scraproom I go after a filling dinner of fettucini alfredo and creme brulee (still on a soft food diet, but at least it's real food and not liquid).
My card is based on this sketch from
Mojo Monday 231
. I used my new Spellbinders dies that I bought during my retail therapy stage of non-creativity. lol I also made it for the
52 Card Pick Up Week 10
at the Old Back Porch.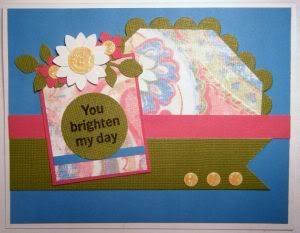 mojo231
It's a start. Maybe I'll get a chance to make another card tonight if I can't sleep. Anyway, thanks for looking.